Plano Pawn Shop is committed to providing you with the best customer service and pawn experience. Our experienced team of professionals have forever changed the image and concepts of pawnshops and pawnbrokers alike.
We are here to help you. We hope you have a minute to look through our site and we are sure you will see answers to many of your frequently asked questions. If for some reason your question is not answered please do not hesitate to call us.
For the last 40 years we have set the standard for pawn shops and pawnbrokers nationwide by having a clean, well lit, organized store and a welcoming, professional attitude towards everyone who walks through our doors.
What our customers are saying
" Dallas Best Pawn Shop!
I had some gold I wanted to sell. I had mapped out a few places: "cash for gold stores" along 75 Central Expwy (I laughed at them as I walked out), Dallas Gold & Silver Exchange (received a fair offer); & Plano Pawn Shop. Needless to say I sold them my gold! They were honest and showed me their testing of the gold, and then, most importantly, offered almost $100 more that the gold & silver place! A+++ "
- Ricardo M.
Citysearch
" I have done business with them several times. Last time I was in the shop to pick up a firearm transfer a man came in visibly stressed. He had two firearms he wanted to take a loan on for a set amount. the man behind the counter offered to do the loan for the amount but for only one of the firearms. I was really impressed. He could have totally taken advantage of the man but he clearly just wanted to help him get by during his hard time and not screw him over. Just being there during that interaction earned them my business for life "
- Steven V.
Google
" This is a first class outfit! I responded to a Guns America listing they had and was pleasantly surprised to find a staff member (Jake) who was very knowledgeable and generous with his time and expertise that allowed me to make my purchase with confidence. For those of you that use online gun auctions you know that their are some knuckle heads out there. This experience couldn't have gone smoother from start to finish. My purchase exceeded my expectations. I consider myself to be a very particular buyer so this was no small feat for the seller. KUDOS JAKE "
- Raylan L.
Google
"First off I rarely give 5 stars. However it is warranted in my personal situation. Listed below is the detailed review of my visit.
Customer service: A +
Looking at some of the other reviews it appears something has changed for the better. I was immediately greeted upon entering the store by three separate employees and after stating I was just browsing I was checked on after about 5 minutes. No issues here. They even took time to answer questions and we're very professional.
Items for sale: A
I purchased a firearm. The process was quick and easy and I was done in less than thirty minutes. All policies were explained and I was also informed of the website, when new shipments are placed out and how they can order directly from the manufacturer.
Store cleanliness A
The store is well lite, clean. Although parking is a little tight. It is situated on a one way street and access is easy to pull in but the spots are angled and you need to be careful pulling out and watch for incoming vehicles.
Price of other items B+
First of folks this is a pawn store. If you want a certain item at a certain price...start with Google. And if you are concerned about what they pay for an item your panning, then you probably shouldn't be in a pawn shop and this might mean you have more issues then you thought you had. All items I observed appeared to be competitive with other pawn shops especially some of the firearms. If you disagree then check out Mister guns down the street. Ridiculous pricing.
Overall satisfaction A
I am extremely pleased with my purchase. No issues.
I will be a return customer."

- S Seabrook/ Frisco
Google
"I have purchased several items from this Plano Pawn Shop and these guys are great. They always take care of me and have gone out of their way to make sure I get what I am looking for. They are honest and have gotten me some great stuff! They are the best.
- Kyle C.
Google
"Great place for FFL transfers. Helpful, friendly and efficient staff. Will 100% use them again in the future."
- Chad C.
Google
Simply put, a pawn is a collateral based loan. Meaning the loan amounts are determined by the personal property being presented. Pawns should be used by people who want to repay the loan with interest and get their item back.
You do not need to worry about a credit report or credit check either. Your items used as collateral are what determine the loan amounts. Even if you are unable to repay the loan your credit score will not be affected.
Cash Loans on Rolex Watches
If you are not wanting the item back we can just BUY the item outright for fast cash! This sure beats the hassles of selling it yourself.
We accept the following items for pawns or to purchase outright: antiques, art, luxury goods, guns, gold jewelry, designer jewelry, electronics, guitars & musical instruments, & power tools to name a few. For more specifics please see our comprehensive list accepted items by clicking HERE.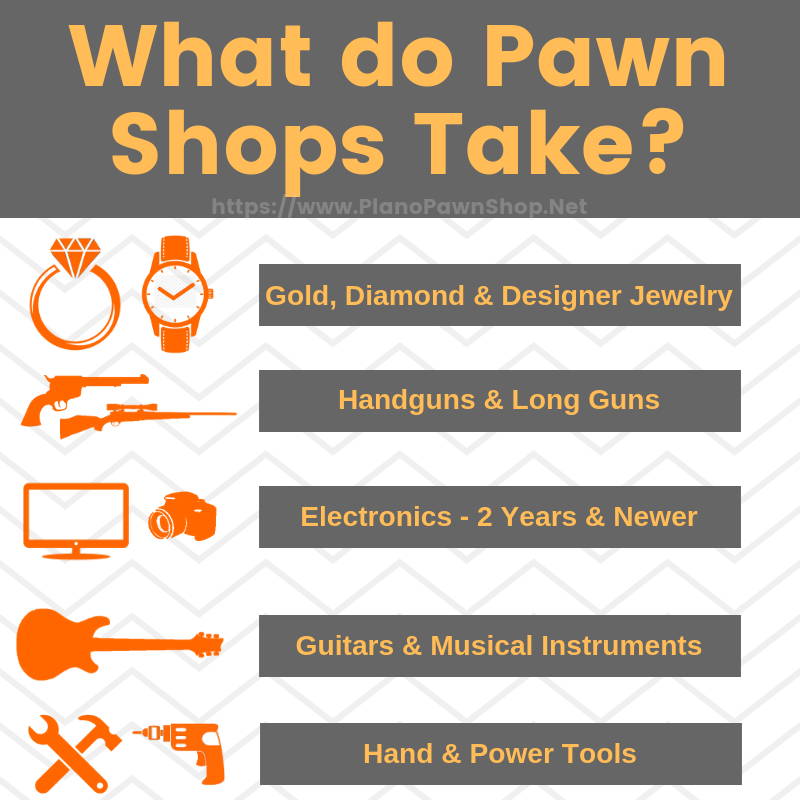 We love the rare and unusual items!
We specialize in:
Super Bowl Rings (Championship Rings)
Rare Art from world renowned artists
Rare Antiques, Vintage Pieces & Oddities
Due to the special nature of these items we need to do a little more due diligence than your everyday items, so we ask that you start with a
FREE Quote
Even if we are unable to help, we will try our hardest to point you in the direction of someone who might be able to assist you.
Plano Pawn was the first pawnbroker in Plano Texas. We provide confidential and convenient solutions to anyone in need of a short-term loan in the greater Dallas Texas metroplex. Our pawn loan customers come from all walks of life including employed, unemployed, self employed, small business owners, and even professional athletes.
A short term, collateral loan is far easier to obtain and more convenient than applying for a personal loan or a traditional bank loan. The interest rates, which are regulated by the State of Texas, are far less than bank late fees, payday loans, auto title loans and other fees (See the chart below).
Our cash loans are a 30 day loan with a 30 day grace period. Which means you have up to 60 days before a required payment is due. You can pay every 30 days, if you would like, to make sure you do not get too far behind with the interest; however, it is not required.
Once in store, one of our experienced staff members will explain the loan process to you and answer any questions you may have. Take a look at our FAQ's that answer many of our most commonly asked questions.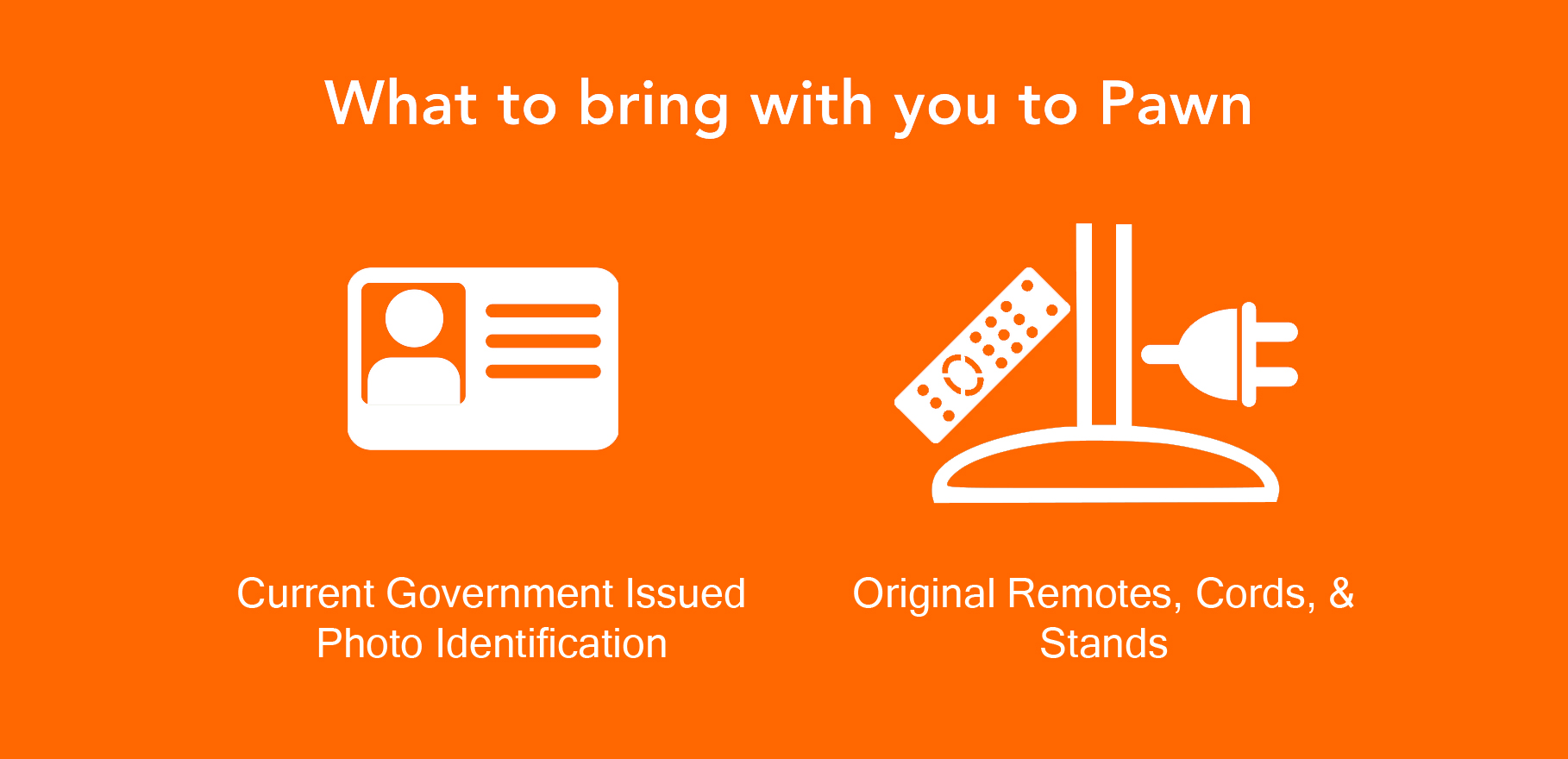 Alternatively, you can reach out by giving us a call at 972-424-6911 during normal business hours or by emailing us HERE.
Even if you are not needing a loan, we are always buying items outright. If you are liquidating, updating, upgrading, downsizing, moving, whatever the case may be; we can pay cash for your items today. We take the headache out selling your items by doing the dirty work for you. You don't have to worry about posting your item online to sale or having your weekend taken over by having a garage sale.
Our FREE  Quotes make the whole process that much easier by giving you an idea of what to expect before you drive over. It is all about convenience. We want the process to be as quick and painless for you as possible.
Don't pay the retail markups. Let someone else take the depreciation hit. Our inventory changes daily but the deals stay the same!
Need a new TV? A new laptop? What about an anniversary gift? We have you covered. Shop Online first and if you do not see it online, stop in and check us out.
Come by and shop, pawn or sell your items. See for yourself why we are the the best pawnbroker in Dallas Texas.
Do not forget to sign up below for our newsletter and receive exclusive newsletter only coupons, inventory updates, and more.